Devil´s Drink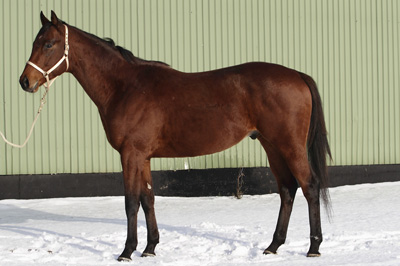 DEVIL'S DRINK (JPN)
12.02.2008
unraced son of undefeated Champion Sire AGNES TACHYON (JPN),
high-class 1m2f 2yo/3yo in Japan, dam champion in Japan, sire of top
class DAIWA SCARLET (1000 Guineas), DEEP SKY (Japanese Derby),
CAPTAIN TULE (2000 Guieneas) REVE D'ESSOR, (unbeaten champion 2yo
filly 2010) etc. Full-brother to AGNES FLIGHT (Japanese Derby)
Dam: SILK PRIMA DONNA (JPN), (Japanese Oaks)
Broodmare Sire: BRIAN'S TIME (USA) 1985.
Won 5 races incl. FLORIDA DERBY (G.1) PEGASUS H (G.1) JIM DANDY
S (G.2).
Juvenile Champion Sire in Japan 1996, sire of 5 Champions and a Tripplecrown-
winner, sire of winner incl. Japanese Derby (3 times) Grand Prix (3 times)
Japanese 2000 Guineas (4 times) Japanese St. Leger, Japanese Oaks, Japanese
1000 Guineas.
Grandsire to VODKA (JPN) 2004. Winner of 10 race, and 7 Gr.1. Incl. Japanese
Derby, Oaks and Japan Cup. $ 13.147.826. Champion 2 years-old-filly 2006.
Horse of the year 2008 and 2009.
Foals of racing ace: 1283, starters: 1158 (90%), winners: 803 (63%) BW: 56 (4%)